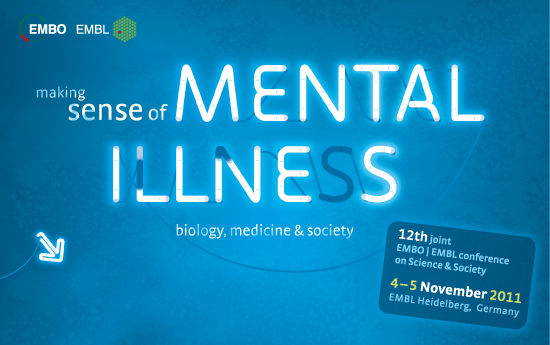 Making sense of mental illness: biology, medicine and society
About | Recorded talks | Interviews of selected speakers

4 November 2011
Nikolas Rose, London School of Economics, UK
What is mental health today - psychiatry, neuroscience and society in the twenty first century

4 November 2011
Hans-Ulrich Wittchen, Technical University, Dresden, DE
Size, burden and costs of mental disorders

4 November 2011
David J. Kupfer, University of Pittsburgh, USA
On the road to DSM-5: redefining mental illness

4 November 2011
Donna Franceschild, Making Waves Films & TV Ltd, UK
Living with bipolar disorder
4 November 2011
Simon Lovestone, King's College London, UK
Baptists, tauists and the new secularism in Alzheimer's disease research

4 November 2011
Andreas Meyer‐Lindenberg, Central Institute of Mental Health, Mannheim, DE
Schizophrenia - from maps to mechanisms to treatments

4 November 2011
Klaus-Peter Lesch, University of Würzburg, DE and Maastricht University, NL
Attention-deficit / hyperactivity disorder: more than a cultural construct?

4 November 2011
Geraint Rees, University College London, UK
Decoding consciousness

5 November 2011
Mathias Berger, University Medical Centre Freiburg, DE
Current progress in psychotherapy: the example of depression treatment

5 November 2011
Sidney Kennedy, University of Toronto, CA
Deep Brain Stimulation for Depression: Science Fact or Fiction!

5 November 2011
Sir Michael Rutter, King's College London, UK
Gene-environment interdependence

5 November 2011
Steven Rose, Open University, UK
Sick brains, sick minds or sick societies? - what, if anything, might be 'enhanced'?

5 November 2011
Wulf Rössler, Psychiatric University Hospital, Zurich, CH
Strategies to reduce mental illness stigma and discrimination
Contact:
Phone: + 49 6221 8891 119